I met with my OB last month. Last time I saw him, about a year ago, my husband and I went in together to discuss fertility options knowing we had a certain amount of time to try for a second child before preparing for my oophorectomy. In my last post, I discussed why we decided not to pursue fertility treatment and just try naturally. We did so for 9 months, and unfortunately, things did not work out. Tears well up in my eyes as I write this because I am still grieving the loss of not be able to conceive a 2nd, and my surgery date has officially been scheduled for June 11th. I thought about freezing my eggs prior to surgery as a last option at potentially having a 2nd child even without ovaries, but being that my husband and I are both turning 40 this year, and luckily have a beautiful healthy 3 year old boy, decided to close the baby chapter.
So now I'm in process of trying to wrap my head around what's coming down the pike. I've tried to steer clear from reading too much online. It's too overwhelming knowing all possible side effects of medically induced menopause at a young age. Overall however, from what I've read and heard from both my physicians, OB and Oncologist, women under the age of 45 who do not have hormonal risk of cancer or recurrence, should take HRT (hormone replacement therapy), for a max of 4 years (after 4 years it becomes more of a cancer risk). Some women take anti-depressants to assist with mood swings (funny how mood swings is a possible side effect of menopause when PMS no longer exists!). But I asked my OB straight out, what in your experience has been more effective at treating possible side effects of this surgery? He said HRT. So, that's the route I have decided to take. I told him to give me a patch as soon as my surgery is done!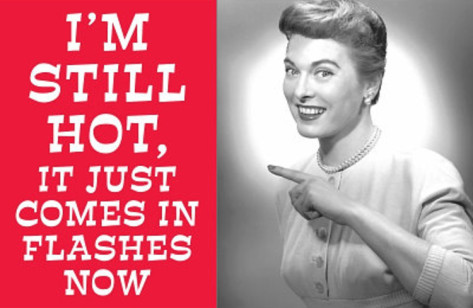 In prior posts, I've discussed the horrible side effects of Zoladex. I was on this drug during chemo as a way to protect my ovaries by shutting down my reproductive system. The hot flashes were simply debilitating. I had no libido and my lower region was literally the Sahara Desert (I have to find some humor in all this or I'll just go bat shit crazy!). haha.. When others hear "hot flashes", they may think "Oh you get sweaty.", or "You need to fan yourself."… NOPE! These hot flashes start with an overall feeling of dread and anxiety, like something really terrible is about to happen. That's how I knew a hot flash was coming on. That dreaded feeling was followed by intense heat, like your skin is burning from the inside out, growing from your groin, up through your chest, into your neck and face, until you look like an overcooked tomato! I would run to the freezer and stick my head in just to get some type of relief. They wake you in the middle of the night, drenched in sweat, pushing anything on top of you off. So I say, not going to risk dealing with any of that again – NO thank you!! Give me that patch!
I would really like to hear from other BRCA sisters who already had this surgery. What did you find beneficial? Did you have immediate menopausal side effects? Any words of advice??
Being BRCA is tough shit ladies and it really does truly suck, but we are warriors and stand united in the understanding that we got each other's backs. No one else can really identify what it's like living with this mutation as a woman.
XO – Look forward to hearing from you!